Our internal Club 500 league provides a light hearted fun racing competition amongst club members. This is "one-design" event .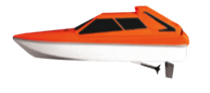 Practice your driving when you get the chance. These boats do not turn on a sixpence like many of the faster electric classes and seem to perform best with a smooth approach to cornering which maintains momentum. Try to set yourself up for a smooth curve which passes close to the buoy but don't overdo it. A cut buoy incurs a penalty of 5 seconds which is difficult to make up in such a closely matched class. If you are too fierce with the rudder, especially on a windy day, there is a distinct possibility that your boat will spin out which again costs you time.
Have fun
At the end of the day this is what Club 500 racing is all about. In our modelling experience it is just about the most enjoyment per pound spent that you can have. You can't go out and spend a lot more to make your boat quicker. It really is all about building accurately and then driving well. If you do this you will be competitive. Give it a try. You'll be glad you did.
Getting the most from your Club 500
Club 500 racing has now been running for a few years at Thorpe Lea and has proved very popular with marine members and fliers alike. We regularly have eight or nine boats racing and occasionally have had to split the field into two heats to keep the mayhem at the first buoy under control.
This popularity is because of the low cost and close racing resulting from the identical specification of the boats. They must be built from the Model Slipway kit which is complete with motor, coupling, shaft, prop and rudder assembly.
All one has to add is 2 channel radio, rudder servo, electronic speed controller (Mtroniks Viper Marine 25) and Turnigy Nano-tech 2200mah 2s 25-50c Lipo.
Although Club 500 racing continues throughout the winter this is the traditional building season. Some members are refurbishing existing models, some will be building a spare and hopefully some will be building for the first time so as to join in the fun.
Big thank you to Roger Hobbs for providing the text for this page, you can find an in depth PDF doc for setup and tuning from Roger here.

Driving
If you have built and prepared your boat accurately and carefully its performance will be competitive. Whether you win or not will then be down to your driving ability and as we have noted before, "to finish first …etc. etc". A demolition derby may be fun but will not usually win a race. The boats are surprisingly seaworthy and quite stable, but can be flipped over in a coming together. They don't self right and so your race is then over. This is most likely to happen at the first buoy and it is really frustrating when your race finishes after five seconds! If you can't outstrip the pack on the first leg it is often better to back off slightly, make a good turn and pick up places as the others bash each other about.